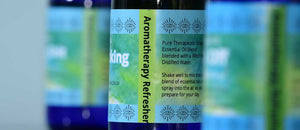 Aromatherapy Refreshers
---
All Natural Refreshers
A quick and all natural way to purify your space! Just a few spritz of Wellnessed Boutique's aromatherapy refresher will sanitize and refresh:
your office space
your bathrooms
your child's playroom
your yoga mat
Linen Aromatherapy Refreshers
Use the aromatherapy blend of your choice on your linens or towels as you pull them out of the dryer to give yourself either the energy you need when you step out of the shower to dry off and start your day.
Or the calming and relaxing sensation needed to fall into a peaceful slumber when you crawl into bed in the evening.
Aromatherapy Refreshers for Wellnessed Sensory Goods
You can use the Star Essence Line of Refreshers to recharge any of the Sensory Tools, including the Headache Relief Pillow and our exclusive Stars and Moons.
---