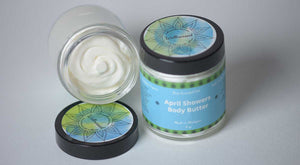 April Showers Spring Collection
---
Sweet + Fresh + Energizing
April Showers is a blend of essential oils that encourage mental clarity, energizes, and uplifts your mind during challenging moments. The empowering oils in the April Showers blend help clear negativity and inspire a positive outlook on life. Each oil was carefully chosen so that together they awaken and refresh your senses and stimulate your creativity.
Lavender
Peppermint
Rosemary
April Showers Blend is included in all natural body care and aromatherapy products available for purchase during the spring and summer months.
*This blend contains rosemary and peppermint essential oils and should not be used by children under 10 years of age.
*This blend contains rosemary essential oil and should be avoided while pregnant.
---