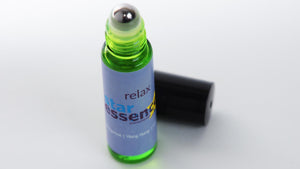 Star Essence Relax Collection
---
Relax Aromatherapy Blend
Star Essence Relax Aromatherapy blend is a power blend of essential oils containing properties known to reduce nervous tension while providing a lift to your mood.
This curated combination of essential oils provides an emotional boost to you or your child. Relax blend is great to use during situational anxiety. The oils boost creativity and confidence in your ability to overcome challenges.
Wellnessed Star Essence Line of Products created in collaboration with the Love Andrew Autism Foundation. A portion of the proceeds from every Star Essence product goes directly to the Love Andrew Foundation and helps children with autism.
For more information our collaboration, please see: Wellnessed Boutique and Love Andrew Foundation Partnership.
---