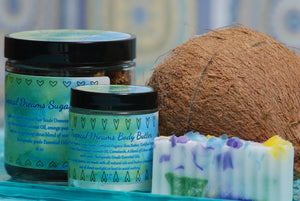 Tropical Dreams Body Collection
---
Custom Blend of Citrus Essential Oils
Tropical Dreams is a unique and custom blend of 100% pure therapeutic grade citrus essential oils including lime, and a unique blend of other citrus oils.
Energizing and Uplifting Citrus Essential Oils Blend
This blend of citrus oils is both energizing and uplifting and is perfect for your morning shower ritual.  We handmade each product to include natural and organic ingredients that will nourish and renew both your body and your mind.
Tropical Dreams Body Collection
Start your day refreshed and renewed!
---